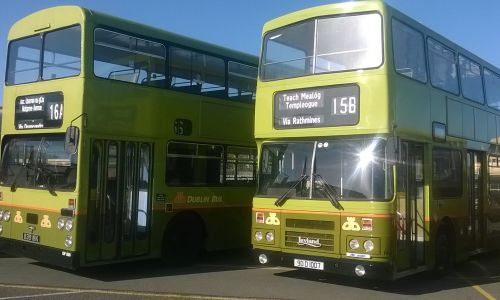 Storytelling is Made for Radio
Of all the mediums available to marketers, radio is the most powerful tool to tell a great story. Storytelling works superbly through voice alone and it's an impactful way to create a strong connection with the listener.
The latest commercials from Dublin Bus use the art of storytelling to great effect. Celebrating 30 years, Dublin Bus are marking the milestone by sharing some of their great stories that they've gathered up over the last three decades.
'Bunny on the Bus' is one of these stories and tells the tale of the day when a bunny mysteriously appeared on the number 16.
Authenticity is what makes this ad work. The Dublin accent might be a bit exaggerated but it's the story that has credibility and the ability to keep us engaged right to the ending.
The choice of background music fits into the ad perfectly. The warm reggae-ska rhytym complements the mood and helps to bring the script to life.
Storytelling works in advertising as our brains are wired to understand and retain tales and yarns more effectively than facts and logic. Listeners will become more engaged with stories and become more connected with the brand as a result.
If you'd like to listen to the other 'legends' from Dublin Bus, check out their Youtube page here.
'Bunny on the Bus'
Male V/O: Did you hear the one about the bunny on the bus? It was September 1989 when a rabbit mysteriously appeared on the 16 – but who left him there? Some think it was all a mix up – like maybe he was destined to be a child's birthday present but that little girl instead opened up a box  with a pair of size 12 combat boots. Others say he burrowed his way into the depot at Broadstone before sneaking onto the back of a double decker – more think the bunny should have taken the number 10 as it would have been his best way back to Dublin zoo – all we really know is that the little bunny found a new home – thanks to everyone in Dublin Bus Lost Property.
Female V/O: Since setting out 30 years ago, Dublin Bus has some stories that have become legend. For more visit youtube.com/dublinbusnews
Dublin Bus – Celebrating 30 years of service with 30 years of legends